So this is the first time that I have ever done a social media shout out of any kind. So I apologize in advance if it looks weird and please let me know if I need to fix/add things!!
https://plus.google.com/s/%23TheSummerThatMeltedEverything/top (I have the free plan and guess what, can't post videos. I will be upgrading when BK gets paid next. So until then, I apologize!!)
I am reading this amazing book, The Summer That Melted Everything, by an amazing author, Tiffany McDaniel. I am not lying when I say this book has gone beyond everything I expected!!!
The book will be published July 26th 2016 on Amazon. I would definitely go and preorder this!! My review will be live on July 24th, so be on the lookout for that.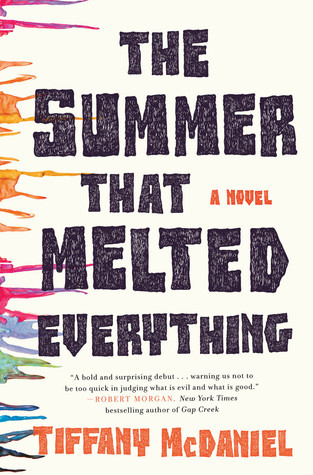 About the book (Goodreads):
Fielding Bliss has never forgotten the summer of 1984: the year a heat wave scorched Breathed, Ohio. The year he became friends with the devil.
Sal seems to appear out of nowhere – a bruised and tattered thirteen-year-old boy claiming to be the devil himself answering an invitation. Fielding Bliss, the son of a local prosecutor, brings him home where he's welcomed into the Bliss family, assuming he's a runaway from a nearby farm town.
When word spreads that the devil has come to Breathed, not everyone is happy to welcome this self-proclaimed fallen angel. Murmurs follow him and tensions rise, along with the temperatures as an unbearable heat wave rolls into town right along with him. As strange accidents start to occur, riled by the feverish heat, some in the town start to believe that Sal is exactly who he claims to be. While the Bliss family wrestles with their own personal demons, a fanatic drives the town to the brink of a catastrophe that will change this sleepy Ohio backwater forever.
About the author (tiffanymcdaniel.com):
An Ohio native, Tiffany McDaniel's writing is inspired by the rolling hills and buckeye woods of the land she knows.  She is also a poet, playwright, screenwriter, and artist.  The Summer that Melted Everything is her debut novel.