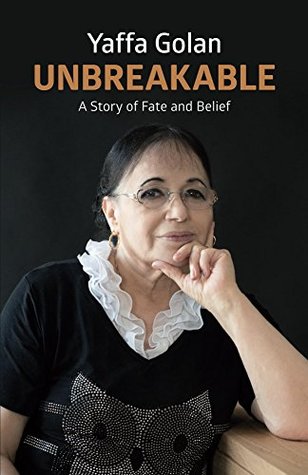 Before I start my review, I have to put up this disclaimer: I received a copy of this book for a discounted price through Tomoson and the publisher. Any and all opinions expressed in this review are mine and mine alone. I received no financial compensation for this review. Now that is over, on to the review.
Book synopsis:
Experience the strength of faith, courage, and love
Fate and Belief are the major elements creating this inspiring life story of Yaffa Golan, who was born in Lebanon and immigrated with her family to Israel, grew up in poverty, but against all odds became the manager of a bank branch and later a highly successful businesswoman.
When Golan uncovered extensive bank fraud, she received death threats and was finally forced to resign. Later, she exposed irregularities in nonprofit organizations that helped Holocaust survivors; here, too, she struggled to bring the truth to light in the face of legal battles, persecution, and financial ruin. Despite this hardship, Golan has managed to establish a flourishing business and created legal precedents for benefits entitled to Holocaust survivors from the German Social Security pension for ghetto employees.
˃˃˃ The inner strength of a determined woman
This turbulent flow of events, unbelievable at times, illustrates the inner strength of a determined woman who single-handedly dared to overcome obstacles. Sharing her life experience, wisdom, acute business insight, strong sense of intuition, and the ability to predict consequences, the author relates fierce legal debates on matters of life and death; her own development of original patents; as well as an empowering, unique mother-daughter relationship.
Combining business and personal details, Yaffa Golan, born in 1942, offers a fascinating retrospective accord of special moments great and small in her volatile life, both beginnings and closures.
This is a must read for anyone who wishes to experience the strength of faith, courage, and love.
Scroll up and grab a copy today.
My review:
Normally, I don't read nonfiction. I have run into a few nonfiction books that were, to put it simply, boring. So when I got the chance to review this book, I was a little bit hesitant.
I would like to say that I was pleasantly surprised by the book. From the first chapter, it sucked me in and kept me there. I became 100% engrossed in the story and read it in a day. Luckily, for me, R decided that she wanted to sit with me and snuggle rather than cause havoc.
There were some things in the book that I had to look up while reading the book. Mainly the financial stuff but still, it kept me sucked in. I also had a small problem understanding all the name changes. Again, nothing big and nothing that distracted me enough from reading.
It was obvious that the author didn't speak very good English. The wordage she used and the structure of some of the sentences reflected that. But, to me, instead of taking away from the story, it added to it.
Yaffa is someone to be looked up to and admired. To go through what she went through and come out the other side a better person is great and something to be looked up to. I was explaining this book to BK and he asked if this took place during the 90's. When I replied yes, he said that he remembered hearing about everything when he was stationed in Germany with the Army.
I plan on having B read this book when she is old enough. Z and R too. This was a great book that showed how you can overcome anything!!!
Will I reccomend this book to other people: Yes!! But only if they like memoirs.
Will I read this book again? Yes!!